Life must go on, but i don't feel like it should be now.
Last night i braved watching the news. It broke me more than i thought something this huge can ever put my heart to great sorrow. I know we all are. We're all mourning. And as each and everyone mourns differently i want to do my part. Am saying goodbye for a while. You all know what my blog is all about. I can't blog about clothes and what am wearing when thousands of Filipinos has nothing to wear. It's just not right.
Give me days or weeks or a month. I will be back. It doesn't feel enough just to give, giving isn't enough till some part of you hurts and am desperately wanting to give more than what am capable of. Honestly and shamefully on my part, i have never sacrificed anything in great lengths to help people i don't know. I think it's time to step out of my comfort zone.
Ill miss blogging. Ill miss you. But ill see you again.
Do me a favor and kiss and hug and smell the people you love so dearly. We can't be certain of what tomorrow is. Life is a bubble.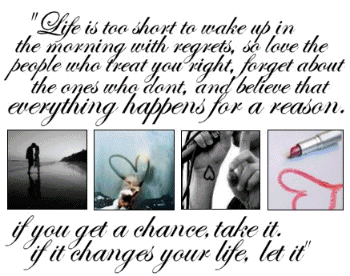 Life Quotes
Ps,
We're still accepting donations

send RED (space) (amount) to 2899 for GLOBE
and
4483 for SMART
Philippines only
Do it now, text now.
For US and CANADA donate through the AMERICAN RED CROSS
call 1-800-435-7669
For more inquiries please visit this site
ONDOY RELIEF
Thank you all so much. Bless us all.
Lets all make a difference and NOW is the time.